In our daily life, there are instances where we have to share things from our computers. This can be any image, text, article, or anything from our system. The first thing that comes to our mind is taking a snap with a smartphone camera and share it with whoever we want. This seems easy but lacks details which can easily be overcome by taking screenshots.
Windows 10 provides several ways to take screenshots of your entire computer screen or just select parts of it. Below, I'll go through several ways to capture the PC screen so that you can choose which works best for you. Here is how you take screenshot in laptop
Method 1: Using the Print Screen Key With Clipboard
This is the classic method of capturing screenshots from a very long time in windows. There is a dedicated key placed in every laptop with the button name PrSc or Print Screen. Pressing this button will capture the whole screen in the clipboard and then you can paste (Ctrl + V) it into any other program that displays images, like Paint or Microsoft Word.
This is not it, Windows features several PrtScn variations:
PrtScn: This copies the entire screen to the clipboard.

Alt

+

PrtScn

: This copies the active window to the clipboard, which you can paste into another program.

Windows key

+

Shift

+

S

: The screen will dim and the mouse pointer will change. You can drag to select a portion of the screen to capture. The screenshot will be copied to the clipboard, which you can paste into another program. (This shortcut only works if you have the latest version of Windows 10 installed, called the Windows 10 Creators Update.)

Windows key

+

PrtScn

: This saves the entire screen as an image file that you can find in the "Pictures" folder within a subfolder called "Screenshots." When you press this key combination, the entire screen will flash which indicates that the image is saved.
Method 2: Using the Windows Game bar
Very few users know that windows have some specially developed features for Xbox games. Among those one of the features is recording games and taking screenshots in the game. Although this feature is developed for games but can also be used in general.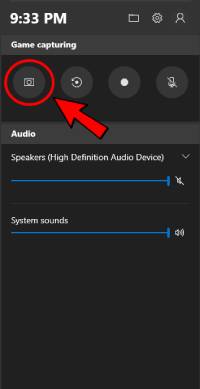 To trigger this press Windows + G on your keyboard which will bring you a popup screen. There click on the camera icon to take the full-screen screenshot and the image is automatically saved in the videos folder.
Also read: Windows 10 keyboard shortcut you Must Use in 20201
Method 3: Using the Snipping Tool
The snipping tool is around for a very long time since windows vista. Microsoft once proposed to remove this tool but still, it's kicking around. After launching of snip & sketch tool, this tool is hidden and not surfaced on the start screen. But you can easily find this from the start search box.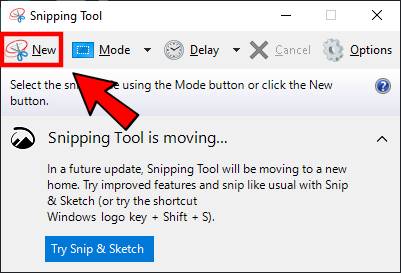 Once you find the snipping tool, make sure to pin it in the start or taskbar because you are going to use this tool frequently. To take a screenshot click on new and the crosshair will let you select the area. The image will be saved in a clipboard which you can edit in the snipping tool or paste into any other photo editing application.
Final Words
So here are the few ways through which you can take screenshot in laptop without using any external application. Windows has everything builtin to take a screenshot and edit it. Well, there is the external application Snagit which is one of the best applications for taking screenshots, which you can check out.