Telegram is well known for pushing regular out of the box updates. Now the Telegram 6.0 has brought something which is a great boost for Telegram Channels & those who use it for conventional messages. This update has brought so interactive content that makes you fall in love with Telegram.
What is new in Telegram 6.0
The recent update is Telegram 6.0 which has brought support for custom folders, Unlimited Pins, Chat Archive, Channel Stats, Voice recording animation, New Emojis and more.
The first and foremost thing is to update the Telegram app to the latest version from playstore.
Telegram 6.0: Chat Folders
Telegram messenger is more used for games, work & study than conventional messages. Many of the users rely on Telegram for studies and work. Every day we are exposed to new interesting channels that populate our chat list & makes difficult to find. Now you don't miss important messages, Telegram 6.0 has brought folder option to arrange different channels.
If you have too many chats, you can now separate fun from work, or family stuff from school stuff – then swipe between the tabs to quickly access any of your chats.
Here is how you can create a different chat folder. Go to Setting > Folders > Create New Folder > Add Chat or Remove Chat
Also read: 10 best Telegram channel lists in 2020
Telegram 6.0: Channel Statistics
The telegram channel feature is the most amazing & unique. Its a boon for the budding creator who wants to share something to the world. Telegram channel has grown big so it was a long due request from all channel owners around the world to add statistics feature.



Now with Telegram 6.0 update, you can view the statistics of your channel provided you have a channel with more than 1000 subscribers. It shows the detailed statistics about the growth and performance of your posts.
To access this go to your channel > tap on the channel name > Click on the 3 dots on the top right corner > then click Statistics.
Telegram 6.0: Unlimited Pins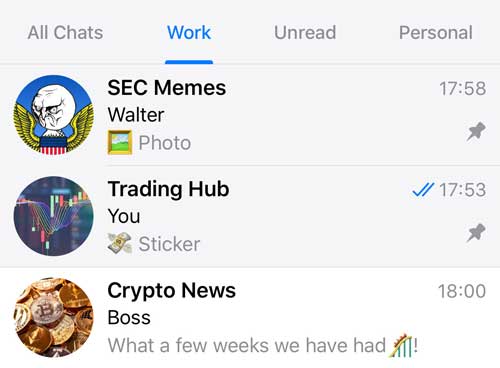 We generally pin personal chats or channel that is used frequently but there was a limit on the number of pinned chats. But now each of your folders can have as many pinned chats as you like.
Also read: How to backup WhatsApp chat in 2020
Telegram 6.0: Archived Chats
Chat Folders work best to make some of your chats more visible. If you're looking to hide some of your chats from view, try archiving them instead.
Swipe left on a chat to transfer it to your archived chats folder. When an archived chat gets a notification, it will pop out of the folder and back into your chat list. Muted chats will stay archived forever.
You can hide the archive by swiping left on it. See it again by dragging the screen down.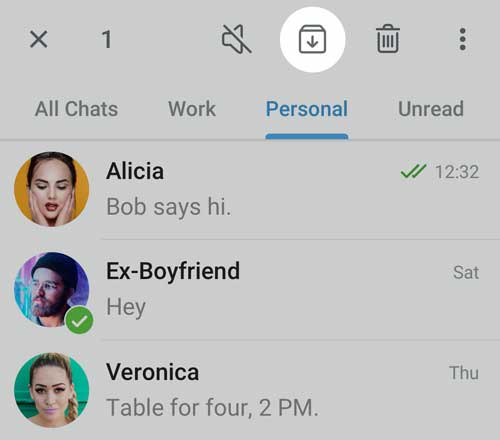 On Android, if you are already using Folders, swiping will not work for archiving. Instead, you can long-press on a chat to open the bulk actions menu where you can select multiple chats and then pin, mute, archive or delete them all at once.



telegram 6.0: Voice Recording Animations on Android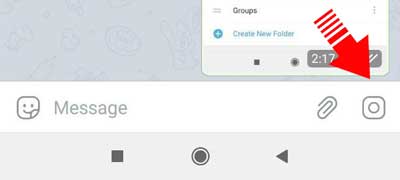 Now you can record voice as well your video right from the chatbox. Tap on the mic icon at the right corner of the chatbox, it will convert into video icon and vice versa. You can press and hold the icon to record video/audio and if you changed your mind then slide left to cancel the recording process.
Isn't it hectic to press and hold for recording longer audio/videos? Here comes the masterstroke with Telegram 6.0 update where you can lock the recording process. All you have to do is to press the recording icon hold for some time and then slide up to the lock icon. That's it recording will continue, this is very much helpful trick.



New Animated Emoji
Amid pandemic #ChinaVirus (COVID 19) Telegram 6.0 has added new animated emojis. You can check out these new emojis and urge your friends to stay safe and healthy

, 

, 

, 

, 

, 

, 

, 

, 

, 

.
Most of the sticker packs now also have something to say about the situation. Type

in any chat and wait to see the suggestions:
Final Words
Besides these, there are also small changes being done to boost performance and make it bug-free. If you have any doubts and suggestion don't shy to comment below. lastly, Stay home, stay safe and stay tuned for our next updates!