Telegram Desktop is a full-featured version of the Telegram app which is used by millions of people worldwide. The only downside of the Desktop version is that it gets the update late and some of the very crucial features don't actually reach desktop users. So, one of the very much sought and long-due features was the in-app image editor. Finally, Telegram has rolled out this feature to all beta users in New version 2.8.6 beta.
How to Get & Use Image Editor in Telegram Desktop
Since these updates come early for the beta tester, so you need to first download the Telegram Beta (version 2.8.6) from this link. Then tap on the hamburger icon(≡) on the top left corner and at the bottom, you can see the Telegram version. If you haven't got version 2.8.6 then in the meantime you will automatically get the update.
Now that I assume that you have been updated to the latest version of Telegram here we go with the next steps.
Also read: How to Create Telegram Refer and Earn Bot in Just 5 minutes
Step 1: Go to telegram and select any image which you want to post to your channel, group, or personal chat.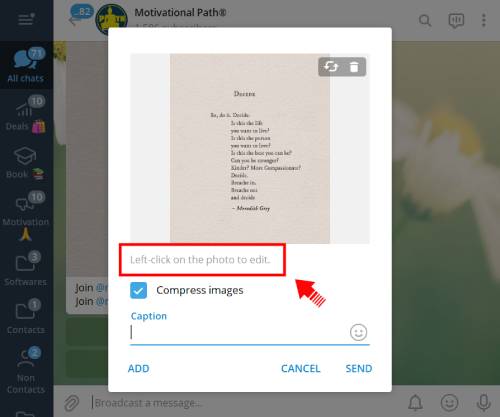 Step 2: As you select an image, a preview will be shown, and below which you can see " Left-click on the photo to edit".




Step 3: Left click with the mouse or just tap on the touchpad of the laptop to enter into the editing window.
Step 4: The editing window is currently minimal but gives you enough opportunity to edit your images as you like.
Option 1: Here you can rotate or crop your images.
Option 2: Here you can vertically or horizontally flip your images.
Option 3: Here you can write anything in different colors. Even you can add stickers of your choice to the images.
Final Words
Although the features are quite lagging behind its Android counterpart, it keeps coming at regular intervals. To keep up with all the latest Telegram features & updates, you can also follow our Telegram channel.