Google has traveled a long way since it was started in 1998, California. Being started as the fastest browser it has now become the most resourceful browser which can actually do many things which you can't imagine. Google search is not just limited to search results, all thanks to machine learning and AI.
With that being said if you want to use google search efficiently let's dive into the below article. Here are the top 10 Google Search tricks which everyone should know in 2021.




Top 10 Google Search Tricks
All the tricks which are explained below works on all platforms whether it is Windows, Android, or iOS.
1. Calculator
Very few users know that Google has its own full-fledged scientific calculator with unlimited possibilities. Just type "calculator" in the google search and you will get a scientific calculator along with other results. This calculator is exact replica of a physical calculator which is being used in households.
Also read: Google Chrome Tricks & Tweaks for Android Which You Should Know in 2020
This is not it google has developed a calculator for your every need. For example, search Tip calculator, or mortgage calculator and the search result will show you a customized calculator.




2. Check Flight Status
Google tracks everything which is coming and going into your mail. so you must have noticed that when you are going to catch a flight google already knows it and update you on the current status.
You can also check the status of any flight by searching the flight name & flight number which in my case is Go air G8 285. So every time you don't have to visit the website and track the status. Not only that google shows the terminal, gate no and next three days' status as well.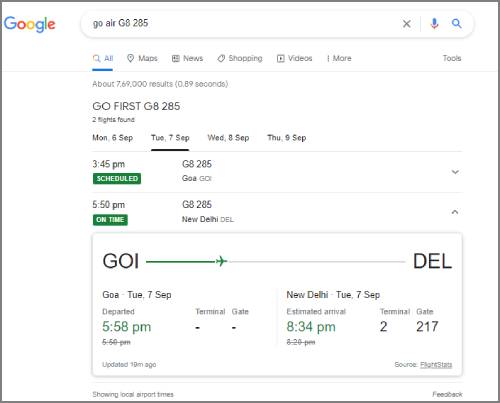 3. Perform Quick Unit Conversions
Google can quickly perform all kinds of unit conversions, be it an area, frequency, temperature, or bunch of things. All you have to do is to type "convert one unit to another unit" which in my case is "Fahrenheit to celsius".
You may find a bunch of lists of conversions when you tap on the Temperature dropdown button. Using Google's unit converter, you can convert:
Area (for example, square foot to square mile)
Data transfer rate (for example, kilobyte per second to a gigabyte per second)
Digital storage (for example, megabyte to gigabyte)
Energy (for example, joule to kilocalorie)
Frequency (for example, hertz to kilohertz)
Fuel economy (for example, kilometer per liter to miles per gallon)
Length (for example, foot to the yard)
Mass (for example, pound to the ounce)
Plane angle (for example, the degree to radian)
Pressure (for example, pascal to the bar)
Speed (for example, miles per hour to kilometers per hour)
Temperature (for example, Fahrenheit to Celsius)
Time (for example, second to a minute)
Volume (for example, tablespoon to the fluid ounce)
4. See current Time anywhere in the World
Suppose you have a girlfriend or friend who is in another country and you don't want to disturb their sleep. Then you can search on google for the time in [city] to see what time it is in another city right now. It's pretty easy to search, just type time in the [city]. Not only that you can also calculate the time difference between the two cities.
Also read: 8 Google Translate Tricks Can be a Life Saver in 2020
5. Use Google search to do math
Google search can actually do the math for you. This is a rather complex one to describe because it can be used in so many ways. You can ask it basic questions or some more difficult ones.
This doesn't mean that it can solve all kinds of problems but can solve basic mathematics questions such as.
8 * 5 + 5
Planck's Constant

If you search for the first one, it'll return 45. It will also show a calculator that you can use to find answers to more questions.
This is handy if you need to do some quick math but don't want to do it in your head. If you search the second term, it will return the number value of Planck's Constant.




6. Play Games
If you are bored and don't know what to do then you can play minimal games on google such as Pac man, tic tac toe, etc. Just search the "Pac man" and you will get a play now button. Below these more suggested games also you can try and new games are kept on adding on regular basis.
7. Find Your IP Address
If you don't know your Ip address then you don't have to go to settings. Just search for "My IP Address", and Google will reveal your public IP address.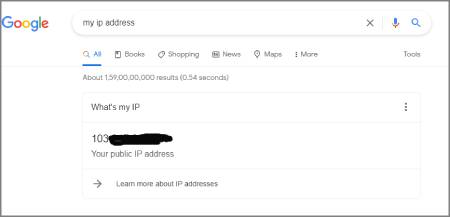 8. Current weather or Weather Forecast
If you want to see the weather of your location then search "Weather" in the search bar. But you want to know the weather of any other location then type Weather followed by city name or location.
9. Show Results from a Specific Website
Suppose you want to search some terms which are specific to a website then you can actually filter down your search results. To use the site: search operator, type site:[website address]. Here's an example: site: www.techscanner.in
If you only include the website address in your search, Google will display every result it has indexed for that website. This is helpful if you own a website and want to make sure Google has indexed all of your pages (or if Google has indexed pages it shouldn't have).
10. Explore Nearby
This is one of the very interesting google search tricks which everyone should be aware of. If you have gone to some unknown place and want to explore nearby places but literally you don't have any idea. But don't worry google have you covered. Just search the term "explore nearby" and make sure that your location is switched on. The search result will show you all kinds of tourist places, restaurants, petrol pumps, malls, movie theatres, etc.




11. Do a Barrel Roll
It is a kind of magic trick which you can show to your friends. The type search term "do a barrel roll" without the quotes and then you can see the google page rolling like a barrel. For the first time when the user tries this trick, surely gets panic thinking something is wrong with the computer. Send this trick link to your friend and see their reaction.
12. Blink HTML
Go to google and search Blink HTML. You can see all the words blinking at a time. Try this!
Final Thoughts
Google search is a very powerful tool that can be utilized to search for anything and everything on world wide web. Google has constantly worked on its search capability and made it very user-friendly with the advanced use of machine learning and artificial intelligence.