Telegram is one of the most popular cloud-based cross-platform messenger application. It has created its space with a simple, clean, and customizable instant messaging experience. In the market of apps with the hidden costs at the cost of privacy, Telegram has grown with completely free messenger application.



The ability to create independent AI-based bots play a vital role in enhancing user experience. Channels & groups with the ability to connect huge no of the audience with minimal restrictions have pushed Telegram to the next level. Telegram is an open-source project that has continuously & silently added many features that are known to the very few populations.
Also read: How to Download Youtube & Instagram Videos on Telegram
Top 20 Telegram Tricks
1) Self-Destruct Media
Self destruct is must known feature to every Telegram users. This feature was initially implemented to only "secret chat" option but now it is available to normal chats also.
To send a self-destruct message, tap on the clip icon, and then click on the media. The bottom right corner you can see the timer icon, selecting this icon will let you select the date and time. So once the receiver opens this message the timer will start and auto-delete after a specified time.
2) Schedule Messages
For professional users and channels or telegram owners, message scheduling is a must.  Most of the users rely on bots to schedule their task but now there is native support for scheduling.
All you have to do is to type the message and then press and hold the send button to bring the schedule message option. There you can select the date, time & min and tap on the send button to schedule the message.
Scheduled wrong message or time? Not to worry, you can delete, edit or reschedule the message any time before the message is sent.
3) Send Silent Message
There are times when you want to send the message without disturbing someone. Well in that situation this feature is very useful.
The procedure to send the silent message is the same as the schedule message as explained above. Only instead of choosing a schedule message, choose a send without sound.
Also read: How to Get Google Photos Unlimited Storage [updated 2019]
4) Multiple Account
Telegram always thinks ahead of time which is why it adds features which we can't think of. The latest updates have brought multiple account feature.
You can use two telegram account in the same application, obviously, you need two different mobile numbers. To add multiple accounts go to the hamburger menu (≡) and click plus icon below your profile and log in using another number.
5) Secret Chat
Secret chats are meant for people who want more secrecy than the average fella. All messages in secret chats use end-to-end encryption. This means only you and the recipient can read those messages — nobody else can decipher them, including Telegram. On top of this, Messages cannot be forwarded from secret chats. And when you delete messages on your side of the conversation, the app on the other side of the secret chat will be ordered to delete them as well.
All secret chats in Telegram are device-specific and are not part of the Telegram cloud. This means you can only access messages in a secret chat from their device of origin. They are safe for as long as your device is safe in your pocket.
Secret chat can be accessed by going to the hamburger menu (≡) > New Secret Chat > Select contacts.
6) Video Timestamp
Now timestamp can be added to the videos shared on Telegram to help your friends find the moment they were looking for. Timestamp feature is very much popular among youtube users.
If users add a timestamp like 0:45 to a video caption, it will be automatically highlighted as a link. Also, if a user taps on a timestamp the video will play from the right spot.
7) Send Uncompressed Image
You might have observed that the image sends to anyone through the app compress/reduce the quality of the image. So to avoid this you must be sharing images through email or other drive services.
But with the help of Telegram, you can send an image file to anyone without compression or change in quality. To send the uncompressed image select the image and click on the 3 dots and select "send without compression".
Also read: Bypass Recycle Bin and Delete Files Permanently on Windows 7/8/10
8) Slow Message Mode
If you run a group where members are quite engaging. So sometimes the group registers a lot of unnecessary messages which just hide the relevant message. So to avoid this you can slow down the number of messages sent in a given time period.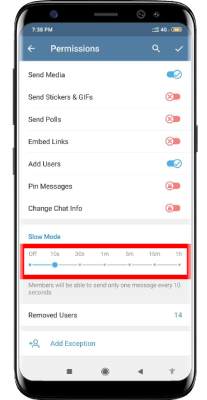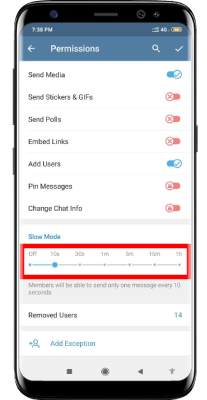 Message sending interval can be set to 10s, 30s, 1m, 5m, 10m & 1h. To apply slow mode in any group go to channel info > Edit (pen icon on top right corner) > Permissions. Apart from the slow mode, you can also manage many other important permissions for members.
9) Edit Sent Messages
Does it ever happen that you send a message, and within a few seconds you find out a glaring typo? Well, there is an edit button to save you on Telegram. All you have to do is select the message and tap on the "Edit (pen)" icon at the top and you can easily edit the message. However, it will show you an "Edited" label after you have made the changes. Also, there are no time-bound restrictions for editing messages on Telegram. You can only edit messages up to 48 hours of sending them (forever if the messages are posted in your "Saved Messages" chat).
10) Add Nearby People and Group
Last year, Telegram brought a unique feature that allows you to discover Telegram users and groups based on your location. This comes really handy when you want to add someone to your Telegram without sharing your mobile number. Also, if you are going to conferences, campuses or festivals, you can find several groups related to the place and event just like that. To add nearby people, open the Telegram menu and go to "Contacts". Here, tap on "Add People Nearby" and there you have it. Previously, it was required to keep the screen open for this feature to work. But now users can turn on the "Make Me Visible" option in the People Nearby window so nearby users can see their profile without needing to have the window open.
11) Change Mobile Number
Like WhatsApp, you can change the mobile number in Telegram also. Once you change the mobile number all your account and all your cloud data-messages, media, contacts, etc. will be moved to the new number.
To change mobile number go to the setting menu > tap on mobile number > change number.
12) Pin Channel/Group/Chats/messages
We usually join many channels and groups but only some channels/groups are our favorite which we frequently visit. So instead of searching every time, you can actually pin those groups/channels so that they appear on top of other chats. This is very much important for those who run several groups or channels.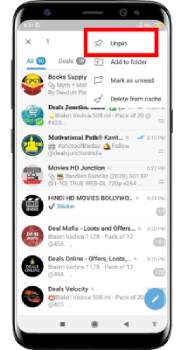 To pin any group/channel/chat, press, and hold then click on 3 dots to pin/unpin. You can even pin messages sent to channels/groups. Just single tap on any post and you will get several options including an option to pin. The pinned message will appear on the top which will serve as the latest notice for your viewers.
Also read: Create Telegram Bot : Add Custom Description, Bio and Logo
13) Share Location
Telegram lets you share your current and live location both in the chat itself. This same feature is available with WhatsApp also. If you want to share location all you have to do is to click on the attachment icon > location > Current location or live location.
14) Copy a Part of Text from a Message
The most annoying with WhatsApp is its limitation to text editing where you can't copy some parts of the text. You have to copy the whole text and then edit it out in the small text field which frankly is very annoying. However, Telegram has brought a great way to select and copy a part of a message. Tap and hold on a message to select it first and then again tap and hold to select your part of the message. That's ingenious, right?
15) Create Polls & Quizzes
If you love Facebook, Youtube & Twitter quizzes then certainly you are gonna like Telegram quiz. You can create both anonymous and visible polls and also schedule them accordingly. Other than that Telegram group has Quiz Mode which allows you to see who voted for what. And the best part is that you can set up quizzes with multiple answers. So, if you run a Telegram group, this is the best way to run an educational group and test the growth of participants. To create polls, simply tap on the "attachment" icon and select the "Polls" menu. And for Quizzes, you can go through Telegram's guide over here.
16) Chat Folders
This is one of the best features which Telegram has done for its users. We usually add many channels and groups and it becomes super messy and harder to find specific channels. So to solve this issue, Telegram has brought something called "Chat Folders". This allows you to categorize your chats into different labels and Telegram sort things out for you. As a result, Telegram gets super clean and much easier to manage. I love it!
So, if you want to create different chat folders on Telegram for your use case then follow along. Open the hamburger menu and move to Settings -> Folders. Here, tap on "Create New Folder" and give a name like personal, work, fun, unread, etc. After that, add the chats that you would like to appear in this folder. Similarly, you can add the kinds of chats that you don't want to be grouped under this folder. This way Telegram will learn your preferences. Now, the main screen will move to a tabbed UI making it easier to use and manage Telegram. How awesome is that?
17) Enable Auto-Night Mode
If you like to use dark themes only in the night so that the app doesn't blind you, enabling auto-night mode can save you a lot of hassle. Once you turn the auto-night mode on, the app will automatically switch to dark mode at the scheduled time. To enable auto-night mode go to Settings-> Chat Settings-> Themes and tap on Auto-Night Mode. Here you can select between Automatic and Scheduled.
If you select the Scheduled option, the auto-night mode will kick in at a pre-defined time which you can change. If you select the Automatic mode, the auto-night mode will start depending on the ambient light. You can slide the slider to select at what percentage of the ambient lighting do you want the night mode to start at. Personally, I prefer the scheduling option, however, you can use the one you like.
18) Lock Your Chats
Telegram is most popular because of its privacy feature. The chats are not only end-to-end encrypted but also there is a possibility to password lock the chats. This becomes very much important if you share your mobile with different people.
To lock a chat go to Settings->Privacy and Security->Passcode Lock and enable it. Once you create a passcode and enable it, you will be able to lock and unlock your chats by tapping on the lock icon at the top right of the app.
Also read: How to Create Telegram Bot without any Programming Language
19) Create a Custom Theme
The fact that Telegram allows users to create and install their custom theme makes using the service a joy. This is one of my favorite Telegram Messenger tricks. Basically, you can customize your Telegram app to look however you want it to. To create your own theme go to Settings->Chat Settings -> then scroll the chat pallet to end.
you will see color mixer tap on that to go to the theme customizing page. From the dropdown menu, you can select Accent color, Background & My messages, and then start selecting a color from below pellet. You can literally customize the color of almost everything. This is how I love this most.
20) Delete Sent Messages
You can surely delete messages that you have sent, but did you know that Telegram has brought a new feature that lets you delete messages sent by other users too. That's kind of weird, but this feature is for users who prioritize privacy over everything. To use this feature, just select the received message and tap on the "delete" button. Now, select "Also delete for X" and tap on "Delete". The message will disappear from both ends without leaving any trace.
Final words
A telegram is a great tool focused on making communication better and safer. Not only does Telegram warrant more security through features like end-to-end encryption and self-destructing but it also lets you customize the interface and experience significantly. Using these tips and tricks we've listed above, we hope you should have a better chance of being able to call a Telegram tricks expert. Do you think we missed out on something? Make sure you tell us in the comments below because that's we'll learn about your expectations and our shortcomings.