Whenever you make any digital content and publish it, your intention is to reach a larger audience of the same interest. So to reach a larger audience you must know what keyword users are searching related to your content. You must also know what is the reach of that specific keyword and what is the difficulty level. All these data are gathered by search engine providers such as Google, Bing, Yahoo, etc.
But why would they give you the data, ofcourse they won't give you. There are some keyword research websites that will cost you a good sum of money. No doubt they provide the best service but if you are short on budget then there are some good free alternatives. Read the below article where you will get to know about the best free keyword research websites.




Top 4 Best Free Keyword Research tool
Although there are many free keyword research websites, we have hand-picked our personal best free keyword research websites.
H-supertools is the best free keyword research tool that is absolutely free without any kind of restrictions. This is not just the keyword research website but it's a full package where you can do complete SEO of blogs, Youtube, Instagram, Affiliate, email marketing, and much more.
If you are a digital marketer and short on budget then this tool is best for any kind of research and analysis.
Go to the SEO tab and then go to "keyword research tool". For Youtube, there is a separate keyword research tool. Now that you are on the free keyword research tool page, there you can select the country & preferred language. This will help you to rank on the keyword specific to the preferred language & location.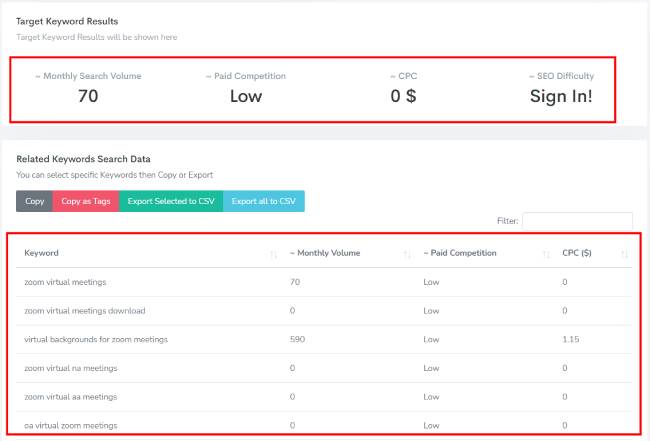 Once you enter the keyword you will be asked to fill the captcha. As soon as you press the enter, the search result will show you the keyword search volume, competition approx CPC. Not only this the details of the related keywords will also be shown.
This website has a lot more tools that you can use to maximize your research.
Also read: Find Websites That Are Using Your Photos
2. Google Keyword Planner
Google keyword planner is not directly a keyword research tool but it comes under bundled with Google ads. If you want to use this tool you have to follow some simple steps to get this tool working.
This is the google product so the data provided is the most reliable. The search result shows the volume of searches, competition level & CPC. You can do a lot of things depending on your expertise and it's completely free to use.




Keiwords is another free keyword research tool which has some very specific tool to do research on the blog, youtube, eBay, Amazon, bing, yahoo, etc. Using this tool you can broaden your search results in almost all sectors.
The keyword research is very much reliable and it is completely free. You can also generate keywords that people are searching through "Question keyword generator". The "Marketing keywords generator" will let you generate keywords for marketing purposes. So this tool is a kind of overall solution.
Also read: Top 3 Websites to Download free Ebooks Online
Ubersuggest is another very strong tool by Neil Patel. The tool is very powerful where you can do keyword research, SEO website research, competitor analysis, etc. Just enter the website URL and it will scan the full website and give you all the possible SEO results.
once you go to the website you will be asked to enter the keyword. The keyword research will give all possible details such as keyword volume, SEO difficulty, CPC, related keywords, etc.




But this tool is not completely free so it limits the result to few searches only. The data they show is also limited which is quite good for the free plan. So you can use this tool freely as long as you want if you have only a few searches to do every day.
Final words
Although these all tools are free but every tool has some limitations since they are free to use. You get much more data and flexibility when you register for paid service. If you ask for my recommendation, you should try these free tools in beginning and then opt for paid service later when you started generating a handsome income.