Battleground Mobile India is finally here to install for pre-registered and non-preregistered members also. If you want to install the game right now then go through this process. Well, this game is only the rebranded version of PUBG mobile so you might be wondering if you can get the old data back. Krafton has created a separate server for India which is of course as per govt. norms. But they have made a provision to "Transfer Your Old PUBG Mobile Account to Battlegrounds Mobile India". If you had spent lots of UC & worked hard to get those skins, dresses, or achievements then you can get it all back.
Transfer PUBG Mobile Account to Battlegrounds Mobile India (2021)
It is pre-assumed that you have to first install the Battleground Mobile India(BGMI) on your smartphone. Once you have done that and are on the login page, here's how you can move your old PUBG Mobile account data to Battlegrounds Mobile India. There are two methods which we will discuss in detail.
Also read: How to Download & Install Battleground Mobile India
Method 1: Transfer PUBG mobile data during Installation of BGMI
Well, first you need to install the BGMI from any of the two methods. Once you have installed the game and restart the game, you will be asked to transfer the data of PUBG mobile. Also, this data transfer will only work till 31st Dec 2021 so make sure that you do it before the deadline. Post that all data will be completely erased from the PUBG mobile global server.




Step 1: Here I have logged in with Facebook but you can choose either Facebook or Twitter.
Step 2: BGMI will now request access to your name and profile picture. Tap on "Continue as <name>" to proceed further.
Step 3: Now you have to choose the avatar and username which actually doesn't matter but to proceed to the next step you must do it. As your data is being transferred you will receive your old username and avatar back.
Step 4: Now in the next step you will see a popup window asking for your permission to "Account data transfer". Tap on "Yes" to confirm that you are indeed accessing the game from India.
Step 5: Within seconds, you will see a new pop-up that asks if you would like to transfer your old PUBG Mobile data to this new account. Tap on "Yes, please continue" to confirm your action.
Step 6: Next your consent will be asked for account data transfer. Post data transfer, your old account data will be erased.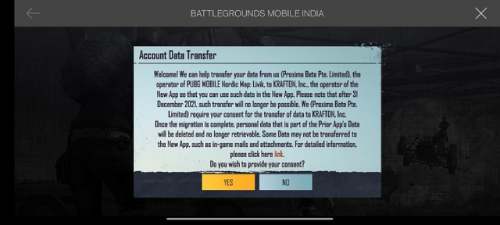 Step 7: Now choose the social media account which you previously used for the PUBG mobile login. Tap on "OK" to log in to your Facebook/ Twitter to start the account migration process.
Step 8: Enter your Facebook/ Twitter credentials and log in to your account. After logging in, PUBG Mobile will request email address access. Tap on the "Continue as <name>" button to allow it.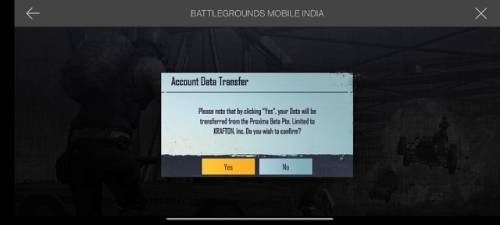 Step 9: You will now see a final confirmation screen. Press "Yes" to confirm transferring your PUBG Mobile account data to Battlegrounds Mobile India.




So that's it you got all your old PUBG mobile look and feel back right where you left it. Isn't it cool that you are now playing your exciting PUBG mobile with the new brand name BGMI.
Also read: How to get Low PUBG ping for JIO Users
Method 2: Transfer Old PUBG Mobile Account to BGMI from Settings
Now if you have installed the game but skipped or missed the account data transfer then follow the below steps.
Step 1: From your Battleground Mobile India lobby screen, tap on the upwards arrow icon at the bottom right corner.
Step 2: Then quickly tap on the "settings" menu.
Step 3: Under the basic settings menu you can see the "Account Transfer" option. Tap on the Account transfer and follow the step 4-9 from Method 1.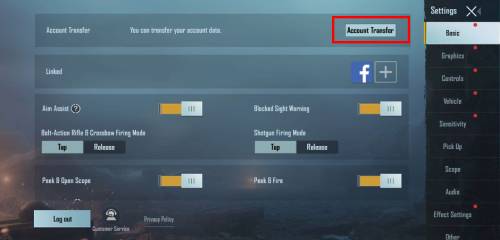 That's it! You should have successfully moved your account data from PUBG Mobile to Battlegrounds Mobile India if you closely followed the steps above.
Transfer Your Old PUBG Mobile Account to Battlegrounds Mobile India
So that's how you can migrate PUBG mobile data to Battleground Mobile India by following the above simple steps. However, the process is very straightforward but Lil bit time-consuming. But this is the small thing you can do if you want to get your old account back.