You must have faced strain in your eyes while working for long hours on any light-emitting device like computers, Mobiles, Tablets. Some people face watering eyes due to excess strain when exposed to long hours of light-emitting screen. It has now become a very common problem for a modern generation due to long hours of staring at the screen. Eyestrain caused by the use of digital devices like computers, smartphones, and tablets is better known as computer vision syndrome or digital eyestrain.
common causes of eyestrain include:
focusing on a single task for a long length of time, such as driving or reading
being in an inadequately lit environment, either too dim or too bright
feeling stressed or tired
experiencing poor vision or eye problems like dry eyes
Some causes specific to digital eye strain are:
maintaining poor posture while viewing a digital device
failing to blink when viewing a digital device
holding a digital device too far or too close to your eyes
being exposed to extended amounts of blue light, which is the light commonly emitted from digital devices
viewing a screen that doesn't have properly adjusted lighting
Most of the causes can be rectified by changing our habit but the blue light emission can't be controlled normally. Windows and android are always developing methods to reduce blue light emission. There are some devices that have an inbuilt feature to apply a blue light filter, but we don't know how to activate it. Well, the method is very easy and straightforward which you can do by following mine below steps.
Also read: Dark Mode For Whatsapp: How To Get Dark Mode On Whatsapp Web
Activate Blue Light Filter in Windows 10
When it comes to windows, they have already done a lot of their work on implementing the blue light filter from back then in 2016. In previous versions of Windows, it came with the name "Blue Filter" but in the current version of the window it is called "Night Light". The
Steps to activate the Night Light
Go to "setting" menu on the windows 10
Select the "System" menu from among all the list
In the system, menu select the "Display" option on the left menu
Now toggle Night Sight to enable the blue light filter
There is a shortcut to activate the Blue Light filter remotely by going to the "notification panel" and then selecting "Night Sight".
You can also automize the night light for a specific duration daily by going into the Night Light setting. There is a default setting to go activate during sunset to sunrise but for that, you have to switch on the location service.



Enable the blue light filter in Windows 7
Below windows 10 version there is no built-in support for Blue light filter. But that doesn't mean that you cannot use a blue light filter. There is a dedicated software which can do this task with good efficiency.
All you have to do is to download and install f.lux from their website.  There are lots of colors presets and customization available which you can set according to your interest.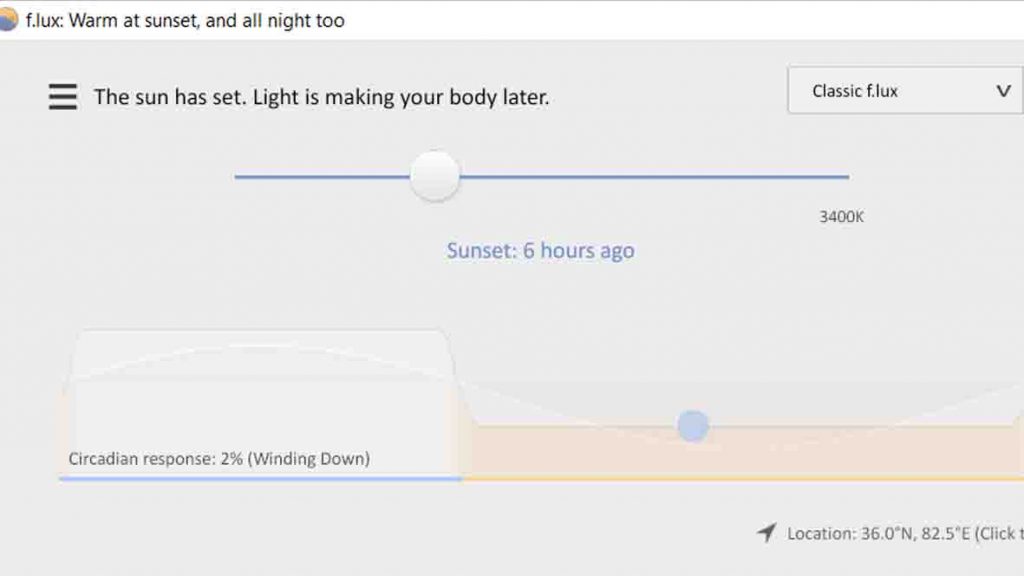 Activate Blue Light Filter in Android
In the previous version of android native support for night sight was not available but after android 9 it is has been available in almost every device by their manufacturers.
Steps to activate the Night Sight:
Go to setting menu of android
Go for Display menu and then search for night mode or reading mode
You can also configure it so that Night Light will turn off automatically at certain times
The process to reach Night Sight might differ for different devices that you have to explore. Still, if you couldn't find the Night Sight then you have to take help from third-party apps.
Activate Night Sight by Third-Party Apps
Download & Install the app from the above link.
Click on the start icon to start the Night Mode
Now choose the color temperature from the available options
There is an option to change the intensity and brightness level.
Note: This app requires android 8.0 and above. The app is completely free and ad-supported.
Final words
Now the gadgets developers are developing an eye-friendly screen but that comes very costly.  A blue light filter is the cheapest and the reliable option you have right now. Did the article cover the topic thoughtfully? comment below!!