Microsoft Edge Chromium launched on 15th Jan 2020 based on the Chromium open source project, which is also the powerhouse of many popular browsers such as Chrome, Opera, etc. They all use the Chromium open source project, but they are all very different in many aspects, so does the edge chromium.
Also read: Microsoft Edge Chromium is Launched and Available to Download Officially
Microsoft Edge Chromium will completely replace the classic edge; you can download it from their official website, or eventually, Microsoft will anyhow push this browser through the next windows update. So you now have an alternative other than the chrome browser. The Microsoft Edge Chromium project is still under development, and many new features are yet to arrive. Edge chromium has come up with some very unique features that stand out compared to other top browsers. In this article, you will find out why you should shift to Microsoft Chromium Edge Browser.
Microsoft Edge Chromium Features List
#1 Faster and Smoother
According to Microsoft's benchmark result, Edge performed better than both Chrome and Firefox in Google's Octane 2.0 and Apple's Jetstream benchmark. Giving more emphasis to the benchmark score will be biased for now, but it is a lot faster than the classic edge version for sure.
#2 Extensions Support
Finally, the most loved feature, which is "Extension Support," is available. Go to 3 dot icon at the top right corner and jump to the extension button. This will lead you to the extension screen where you have the option to get an extension from Microsoft store. Down below, there is a toggle option to allow extension from other stores that open doors for Chrome extension collection.
When you open the Chrome Web Store, a top bar message will confirm that chrome extensions can be added to Microsoft Edge. Also, you have the flexibility to add packed extensions by switching to developer mode.
Also read: 3 methods to play youtube video when the screen is off
#3 Create Multiple Profile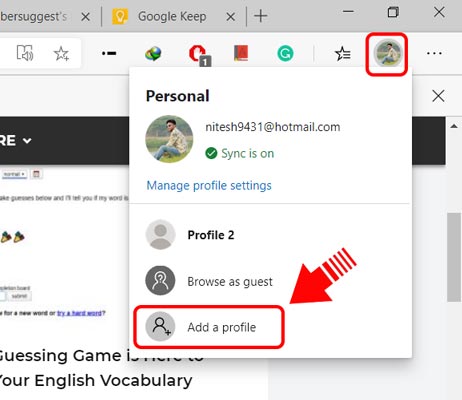 Edge gives you the flexibility to create multiple profiles and sync in everything by logging to your Hotmail account. Browsing as a guest is also possible without any login. To access this, click on the profile icon and then select the desired mode.
#4 Emphasis on Privacy
Microsoft's edge has put greater emphasis on the privacy of users. Websites use trackers to collect data to show you more personalized content and ads, but that is a serious privacy breach that made a lot of concerns last year. This privacy concern was so serious that the tech giants Google & Facebook had to answer US court. So, keeping this in mind, Microsoft has integrated tracking prevention with three different modes to select, from very Basic to Strict.
#5 New Tab Customization
Customizing the new theme is not a very new concept, but the way it is done by Edge is interesting to look upon. You can customize it by going to the setting menu, or when you open a new tab, a small gear icon at the top right corner will lead you into tab customization. Initially, Edge provides three types of Page Layout out; you can customize it according to your needs. It decides what should be shown on the new tab page.
#6 Immersive Reading


You can customize the web page for reading by a simple click of the read icon (  ) at the end of the address bar. The new page will look like an e-book with reading out loud option for coveting text to speech. Also, there is a text preference option that allows you to change text sizes and page themes.

#7 Read Out Loud: Text to Speech

Read Out Loud feature can read any webpage and literally in any language. Go to the three-dot icon (  ) on the top right corner and jump to read out loud. This will start reading the current page with some basic options displayed as a floating bar. If you want to change the language, go to the voice option on the right side of the floating bar and choose the voice of your choice.
If the voice option doesn't have voice support for your preferred language, then you have to download the language pack for Windows 10. To download and install the language pack, go to Setting > Time & Language > Language > Add preferred language and search the language of your choice, then click next to start automatic download & install.
#8 Cast Media
Now that more and more population is shifting to smart devices, how can Microsoft leave this opportunity to garner. Microsoft Edge Chromium has inbuilt support for casting any media. Right-Click on any web page and select cast media to the device. This will search the devices ready for casting and provide you the option to select from the list of devices.
Also read: Windows 10 keyboard shortcut you Must Use in 2020
#9 Browser Task Manager
Like the system task manager in Windows 10, you can actually access the browser task manager. This fully functions task manager where you can see Memory & CPU usage; also, you can kill any process from the task manager itself.
To access this go to the 3 dot icon () on the top right corner and jump to "more tools". Select the browser task manager and a floating window will popup with all active processes displayed.


#10 Install Any Website as an App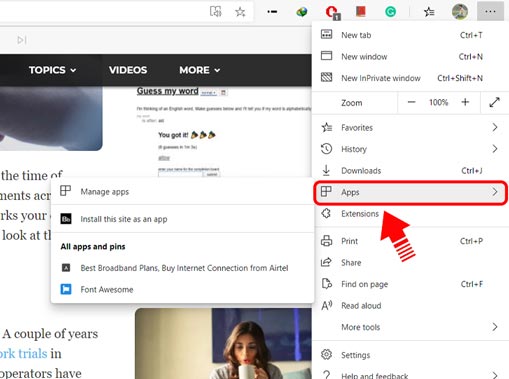 Install any website as an app is a new and very different feature in which the selected site will act as a separate app. A shortcut key will also be created to access it anytime. You can access this by clicking on the three-dot icon (  ) and jump to the Apps section. A new small window will show an option to "Install this site as an app." This will create a separate app and shortcut icon on the desktop.
Wrapping Up
Microsoft Edge Chromium is a complete package of performance and versatility. The features I discussed above is based on what I observed in 5 days. If I find any more interesting feature then I will update this article accordingly. Most of the features discussed are worth trying. What is your favorite? Please let us know in the comment section below.