Video is one of the best ways to preserve memories, showcase our talent, making a portfolio, and whatnot. There was a time when we would look for a desktop or laptop for video editing because it requires heavy CPU & RAM usage. But now we have high-end smartphones at such a budget price range, which is capable enough to handle video rendering.
As the user intent for high-end devices increased, this gave enough room for the development of several video editor apps. These apps are so powerful that you can do editing almost close to what a decent desktop application offers. I wouldn't say that it will match the quality and experience of what desktop application offers, but it does its task pretty well. It is the best option for vlogging enthusiasts while on the go. So here is the list of Top 10 Best Video Editing Apps For Android.
Note:  The Below Mentioned List is not arranged according to their ratings. Find your own best choice from the list below.
Also read: Use Google Photos for Auto Backup In Windows 10
List of best video editing apps for android
#1 Filmora Go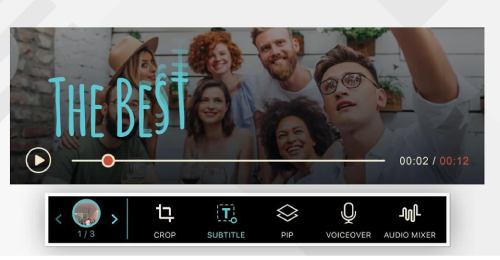 It is one of the best video editing apps for android, which is a kind of fully-featured video studio right in your pocket. It is a pretty powerful video editor, which is the mobile version of desktop application Wondershare Filmora. It is famous for its user-friendly design and blends of all features at finger your tip. Filmora Go the mobile version of desktop application Filmora. It is renowned for its user-friendly design and combinations of all functions at finger your tip. Filmora goes smooth on the go, video editor, where you can select photos/videos from the gallery, album, Facebook, or Instagram, pick a theme, add favorite music, filter titles, and even transitions.



Filmora involved some in-app purchases, but most of the features are free to use. You can either save the video to the gallery or can easily share your works of art to Facebook, YouTube, Instagram, WhatsApp, Vimeo, Tumblr, and Email, etc. Filmora gives the flexibility to save the video in different formats and aspect ratios(for ex, 1:1 for Instagram & 16:9 for youtube). It displays a watermark at the end of the video, but you can remove it by upgrading to pro.
Key Features
• Photos / Videos can be exported directly from social media websites like Facebook, Instagram, Google+, etc.
• It provides royalty-free music to download and use in video mixing.
• Collection of effects & transition templates are enormous and for a variety of moods.
#2 KineMaster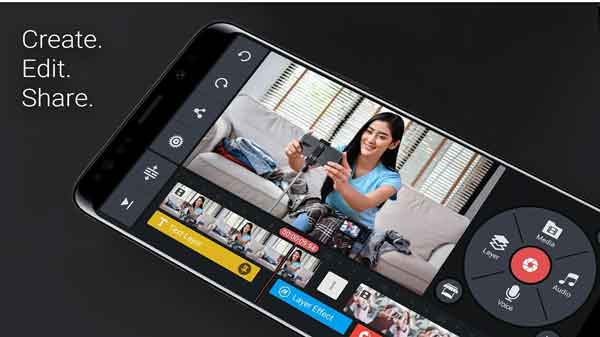 Kinemaster is one of the best choices of the budding creators of youtube, Tiktok, and Instagram with a tight budget. KineMaster is a complete package video editor for Android which possess powerful tools that are very user-friendly to apply, like multiple video layers, blending modes, voiceovers, chroma-key, speed control, transitions, subtitles, special effects, and much more.This feature makes Kinemaster one of the best video editing apps for android.
KineMaster is entirely free to use, but it leaves a watermark on the video. This can be easily removed by the Kinemaster premium subscription. The premium subscription will open the door for millions of over a thousand premium assets in the KineMaster Asset Store, and all of its editing tools are free to use. This also includes unlimited exports in resolutions up to 4K.
Also read: How to root any android device (smartphone/tablets)
Key features
• Multiple layers of video, images, stickers, special effects, text, and handwriting
• Add voiceovers, background music, voice changers, and sound effects
• Editing tools to trim, splice, and crop your video
• The Asset Store provides music, clip graphics, fonts, stickers, transitions, and more to enhance your video, updated weekly (Premium only)
• Export 4K 2160p video at 30FPS
• Share on YouTube, Facebook, Dropbox and more



#3 Power Director
Users can now access the same iconic PowerDirector features from the PCs right on their mobile devices. Powerdirector in one of the top-rated android video editors, which makes video editing so smooth on the smartphone. It brings the experience of desktop editing on a mobile device by arranging videos, audios, text, etc. in the timeline for editing. You will face difficulty in the beginning, but over time you will be able to edit videos pretty fastly.
Its Faster video output and ability to upload them directly to YouTube and Facebook is one of the striking features. You can easily export the rendered video to 720p & 1080p formats. Most of the basic features are free to use with watermark at the end. Premium up-gradation adds tons of features, where you'll be able to export videos in 4K, use multiple PiP videos for overlay tracks, remove watermarks, and enjoy an ad-free editing experience!
Key Features
• Edit and export videos in up to 4K resolution
• Produce fast-forward or slow-motion videos with speed adjustment
• Fix shaky cam footage with video stabilizer
• Edit background with green screen editor by using chroma key
#4 Quick
https://youtu.be/Y1no7nCBMi8
Quik app is the best way to create awesome videos with just a few taps. Choose your favorite photos and video clips then let Quik work its magic. In seconds, it finds great moments, adds beautiful transitions and effects, and syncs everything to the beat of the music. If you own a GoPro camera, then Quick is the must-have app for you because it automatically imports all data from your GoPro footage.
You can choose from 23 themes, each with transitions and graphics designed for any occasion. Customize your video and choose from more than 100 soundtracks. Once Video is edited, you can save videos in gorgeous HD 1080p or 720, even in buttery smooth 60 fps and share to Instagram, Facebook, and more, or send a private Quik link via text or email.
Key Features
• You can add up to 75 photos and video clips from your Gallery, Albums, Google Photos, Dropbox, GoPro Plus, or GoPro Quik Key. Quik even works with Motion Photos.
• You can import all data from your GoPro footage.
• You can save your work as a draft for later editing.
• Videos can be saved in 60fps for smooth playback.
Also read: How to Create a Bootable USB for Windows 10
#5 Funimate
TikTok fans going to love this app because it is one of the best video editor & video makers with music and effects best suited for TikTok. Funimate is a video editor for the younger generation and specifically for nonprofessional videos. You can make awesome fun video clips, lip-sync videos, slow-motion videos, and much more. Besides making a fun video, it also has the full functionality of editing any regular video.
You can use more than 100 advanced video effects and can even create your own effects. Adding Background music from the Funimate collection and even from your own collection is a huge advantage.
While the app is a perfect companion for anyone, but sometimes it feels that the app optimization is not perfect. Despite the hardware acceleration, the Android video editor app is known for freezing on many Android devices.



Key Features
• You can easily add emoji, stickers & text to videos.
• You can create video loops in the most efficient way
• Easily share your fan edit videos, musical videos, lip-sync videos, slow-motion videos on Tiktok, Musically, Instagram, Youtube, Facebook, and amaze your friends!
#6 YouCut
YouCut is one of the best Video Editor/Maker, free Video Trimmer, and Joiner app for YouTube, Instagram, Tik Tok, and other social media. It is a completely free application with no watermarks but will show you annoying ads. You can remove these ads by in-app purchases.
This app includes all basic video editing, such as video merge/join, video cut/trim, slow motion/fast, slideshow, etc. You can add your own music apart fro their music collections; also, you can dd text for doodling.
Key Features
• Flip video up to down and left to right
• It supports resolution up to 4K
• enhanced video compression without losing the video quality
#7 Video Editor
This is an absolutely free video maker with free video filters, photo slideshow transitions, slow motion, fast trimming, reverse video, and more features, to help you to make a great video in one minute!. The video you create will not leave any watermark, which is a relief for new creators.
You can create text doodle, trim video, Zoom in and out. Let your audience focus on the region you want!. You can add 20+ awesome filters, 10+ classic transitions to make your video fantastic.
Key Features
• Fast motion/slow motion to adjust and control the speed of every video clip.
• Add music, and you can also trim the music.
• You can add text with various fonts, and different animations
• You can add 20+ awesome filters & 10+ classic transition themes
Also read: How to Get Google Photos Unlimited Storage [updated 2019]
#8 VivaVideo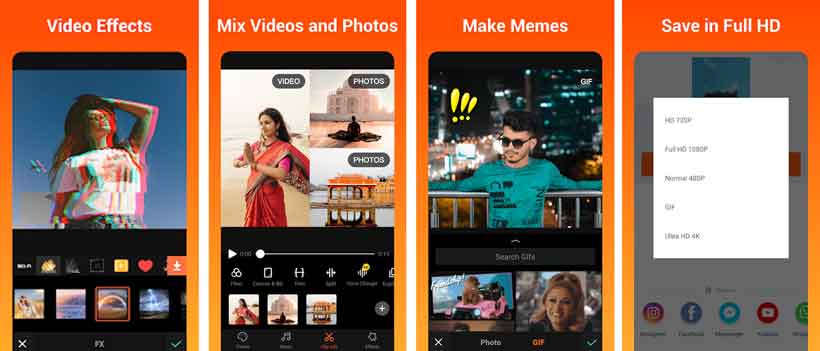 VivaVideo is awarded and appreciated by many tech bloggers for its diverse editing features. It is one of the best choices by TikTok enthusiasts for dedicated support. It provides all basic video editing features, such as cut, crop, merges, copy, paste, and more. You can add stunning transition effects, add background blur effect, add music & photo with video also.



VivaVideo offers most of the services free of cost, but with the pro version, you will have access to export 4K videos, no watermark, and additional transition effects. You can take advantage of pro features like special Effects/ Stickers/ Filters/ Animated clips to transform everyday moments into works of art.
Key Features
• Fast & smooth video rendering
• The dedicated setting for TikTok video creation and sharing
• Ability to export video/movie in 720p, Full HD 1080p, and 4K
#9 VideoShow
It is an all in one editor for video editing. With this movie maker, making memes, creating videos or slideshow with photos, pictures, music, sticker, and sound effects is easy and fun. It includes various features that are user-friendly and very quick. The video output is with a watermark, but you can easily remove it by in-app purchases.
It has the option to include numerous themes, music, filters, and artistic text for creating a funny or professional video. You can add 30+ of stunning filters to make videos different also, you can easily make gifs with pictures from your album. Convert any Video to Mp3 feature is unique, and it supports more than 30 languages & almost all devices.
Key Features
• Convert any video to MP3 in the most easiest way
• Make gifs from any video or image file
• Easy sharing your video on Facebook, YouTube, Instagram, Vine, FILMIGO, Flipagram,Vigo video,TikTok,cute cut, etc.
• You can reduce the size of your video by compressing it.
#10 Adobe Premiere Rush
https://youtu.be/UEqo1zZb4HY
Adobe Premiere Rush is the replacement of Adobe Premiere Clip, which was also an average application, but the unique feature was to transfer video to premiere pro for advanced editing seamlessly. Premiere Rush is a subscription-based application so, if you have adobe creative cloud subscription, then its a worth try.
Adobe Premiere Rush is the all-in-one, cross-device video editor. Built-in professional camera functionality lets you capture high-quality content right from the app and start video editing with no watermarks immediately. Like Premiere Pro, it also has a multitrack timeline for smooth editing. It lets you trim and crop videos, adjust audio, enhance color, and add video effects, titles, transitions, voiceovers, and more.
You can use more than 100 motion graphics templates, add music, thumbnail, and can publish on various social media platforms. It automatically gets synchronized to the cloud so you can pick up from where you left in cross-platform devices. You can export three files for free after that it requires a subscription.
Key Features
• Automatically synchronized to the cloud storage
• Cross-platform editing (smartphone, tablet, computer)
• 100s more free motion graphics templates on Adobe Stock
Wrapping Up
All video apps are unique in their own way. Some are free with limited features, some are paid with advanced features, and some are free with ads in it. So guys, which one is your favorite? And did I miss to include any app? Please let me know in the comment section.