Facebook is trying hard to create an ecosystem through which users can easily communicate between Facebook, WhatsApp & Instagram which is owned by Mark Zuckerberg. Instagram recently announced its plans to let users utilize WhatsApp as a two-factor authentication method to log in to the platform. In this article, you will learn how to enable Instagram two factor authentication through WhatsApp.
WhatsApp for Two-Factor Authentication (2FA) on Instagram
Before diving into the steps, it is worth mentioning that the WhatsApp 2FA rollout is gradual and you may not get the update. But there is an alternative and very secure way to authenticate through an authenticator app.
Steps to enable 2FA through WhatsApp
The steps which we are going to discuss are shown on the android device but you can replicate the same process on the iOS device too. There might be little changes that you can figure out by yourself. With that being said let's jump into the process.
Step 1: Go to your Instagram profile and then tap on the hamburger menu and tap on Settings.
Step 2: Now go to the security tab and tap on two-factor authentication and then toggle on WhatsApp.
Step 3: As soon as you toggle on WhatsApp, you will get a message from Instagram verified WhatsApp contact. There you will receive a login code which you have to enter to enable 2FA in Instagram.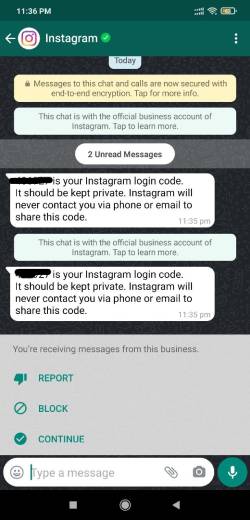 And from the next time, you will receive a message on WhatsApp only when you or anyone try to log in to your Instagram account.
Alternative Method
If for some reason you don't want to use your WhatsApp then you can alternatively go for the authentication app. Even Instagram recommends an authentication app, the most popular and widely accepted is Google Authenticator app.
Also read: Instagram blue tick: How to get Instagram Verified Badge
Download and install it from play store and run the app. now follow Steps 1 & 2 and instead of WhatsApp toggle on Authentication App.
Now the app will direct you to the Google Authenticator app where you have to follow the on-screen steps. 
From next time when you try to log in, get the code from the Google Authenticator app and this app keeps refreshing the code every few seconds. The clock time icon you can see to the right of the code runs backward and generates new code after few seconds.
Final Words
Since WhatsApp & Instagram, both are owned by Facebook but they still recommend the Authenticator app. So you can decide for yourself which is best and convenient for you. I personally would go for the authenticator app.