Telegram has finally added the long due Telegram Video call feature to all its alpha users both in Android & iOS. Video calling feature was already being rolled out to iOS users and now the alpha version is available for android users. It is expected that the stable version will be available by this weekend to all users.
Today Telegram completed 7 years, which was started back in 2013. It was started as a small app focused on secure messaging and have since grown into a platform with over 400M users. Telegram is now one of the top 10 most-downloaded apps and is used all over the world to stay in touch with family, collaborate with classmates, and coordinate coworkers.
Telegram Video Call
"You can start a video call from your contact's profile page, and switch video on or off at any time during voice calls. Like all other video content on Telegram, video calls support picture-in-picture mode, allowing you to scroll through chats and multitask while maintaining eye contact" the company said in a statement.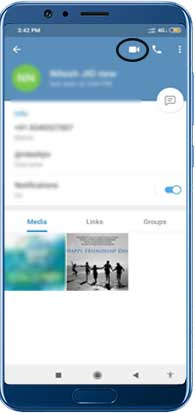 The video logo will appear on profile only if your contact app is updated to latest version.
Also read Best Telegram Bots Everyone Should Know in 2020
All video calls will be encrypted on the app to protect users' data. "To confirm your connection, compare the four emoji shown on-screen for you and your chat partner – if they match, your call is 100% secured by time-tested encryption also used in Telegram's Secret Chats and Voice Calls," the company affirmed. You can find more details of how encryption works on Telegram on this page.
With this update, Telegram has come into the league of video calling apps. This is the demand of time and we can expect that the Telegram video call feature will get more improvements in the coming future.
For now, you can enjoy one to one encrypted calling but Telegram has mentioned about group video calling feature. The group video calling feature will come with the next updates in the coming month.
Stay tuned for more updates!